Austrian Trails aim is to create the ultimate map for trail runners in Austria.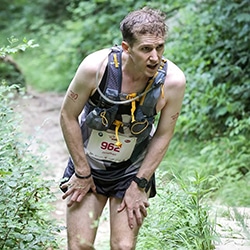 Jonathan during the Mozart 100 (Marathon Distance) in 2018. He dropped out of the top 10 in the final kilometers to finish 18th due to dehydration - remember to drink!
My name is Jonathan and I am the founder of Austrian Trails. I'm originally from the UK and I have been running for over 10 years, mainly on the roads before discovering a love for trail running 4 years ago. After a few months of finding it difficult to know where to run and there being no easy way to plan routes for the trails (plus getting lost a few times), I decided to create Austrian Trails to make it easier to plan trail runs and to help more people discover trail running. I want to help grow the sport and for Austria to be recognised as a lead destination in the trail running scene due to its amazing natural landscape and community. I can often be found on the trails near my home in Vienna or off exploring new areas in Austria.
Favourite shoes: Salomon Sense Ride 2
Austrian Trails is just getting started and I hope to be able to expand the team soon, there will be a dedicated career section once jobs become available.